It all started with the USPS establishing "work-share" drop-ship discounts back in 1991. With decades of experience providing delivery of time-sensitive materials to the printing and graphic arts industry, Glenn Lemons launched Direct Logistics to meet the needs and opportunities of the emerging service market.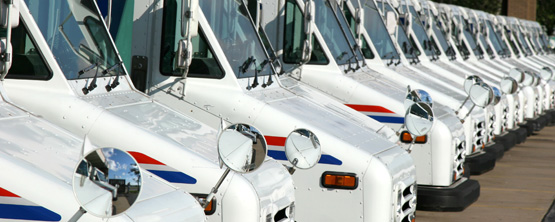 Today, Direct Logistics is an industry leader in technology-driven, postal drop-shipping solutions, with a nationwide client base that spans virtually every size and type of direct mailer, printer, and lettershop in the industry.
The early years:
In 1983, Glenn Lemons cut his teeth as the Warehouse Manager for the largest direct mail production company in the USA at the time. Through the years, Glenn received hands-on experience with each facet of the evolving direct mail industry – from production, to shipping and receiving, to delivery optimization – culminating in his promotion to Transportation Manager.  At the time,  many time-sensitive mailings were focused around 2-day delivery windows. This exposed Glenn to critical in-home requirements within the industry; and remains a major differentiator for Direct Logistics today. 
The key to Start:
We're all familiar with taking a letter down to the local post office. Now imagine 100,000 people bringing a letter to that same local post office, all on the same day, with every letter bound for a different address nationwide. In principle, this was the situation many postal facilities across the nation faced day after day with mail from large direct mail companies.
In 1991 the United States Postal Service met the challenge head on with "work-sharing." Under the new program, the USPS would offer significant postage discounts for mailers who took the initiative to group their mail together by addressee geography, and ship that mail directly to large postal processing centers nearest to the destination regions. This was the beginning of "destination entry postal drop shipping" (often referred to as "zone skipping") which leveraged private transportation to achieve lower postage rates, less wear-and-tear on mail, and ultimately faster and more reliable in-home delivery.
As the Transportation Manager, Glenn was responsible for saving millions of dollars in postage year after year through postal drop-shipping. Glenn soon realized the potential beyond a single large direct mailer, and set his sight and passion on meeting a life long dream of owning his own business. In 1994, Glenn launched Direct Logistics, Inc. (DLI) with a goal of passing his knowledge along to other mail production facilities and demonstrating the tremendous savings achieved through focused process and destination discounts now available through the USPS.
The early years of DLI were, as with many companies, the thin years supported at times by personal credit card payments and the commitment of dedicated employees, many of whom still work for DLI today. The first month generated a total $64 in shipping revenue; a meager foundation to be sure. Yet DLI ended the year with $418K in total revenue.  Glenn and his team were finally in business to stay. By 1997 DLI first topped $1MM in revenue, with a solid base of dedicated customers and growing volumes and revenues.
The Growth Starts:
In early 1998 a large Telco needed help managing a 100MM piece initial mailing and 75MM piece follow up mailing. DLI leased a small cross-dock warehouse facility to service this large consolidation effort that would ultimately required coordination of over 200 truckloads of mail. By the end of 1998, DLI was approaching 2MM in sales, with volumes and profitability continuing to through process and service refinements, and improved operational efficiencies.       
In 1999 the continuing steady growth saw DLI enter their first "large" warehouse (15,000 sq.ft) with a staff of 9 employees who were all becoming very proficient at optimizing, standardizing and systematizing DLI's service model to attract even larger clients and mailings.  
Leveraging of Technology:
In 2001 DLI's rate engine company provided an opportunity to co-develop online tools created specifically for the postal drop-shipping market segment. This early project first exposed DLI to the potential for software and technology to drive greater efficiency and transparency for customers, and ultimately became e-truck-mail.com: the first web-based tool for less-than-truckload (LTL) postal drop-shipping within the mailing industry.  
Soon thereafter, a major player in the sortation and data quality software space approached us to build an integrated "real-time rating engine" for LTL mailings. Leveraging years of drop-shipping experience, and the innovations of e-truck-mail, DLI launched a substantially improved, expanded, and re-branded online solution known as TruckDirectMail.com. (TDM)
The timing was right and the marketing was right. Sales exploded and by 2005, annual revenues exceeded $7MM and DLI once again needed more space due to the growth of the consolidation business. By mid-year DLI moved to the current 50K sq.ft facility near DFW Airport in Dallas, Texas and expanded to 18 full time employees, with continued focus on customer support, tracking, and online tools.
DLI's next period of growth was transitional; moving from traditional logistics services to a technology solutions. Significant investment was made in core systems, software, and infrastructure support for the expanding volumes, revenues, and expansion opportunities being generated through Truck Direct Mail.
By 2010, DLI's revenue model had flipped from transportation logistics to technology, with 75 % of sales attributed to the Truck Direct Mail platform. DLI ended the year with over 14M in sales and began another transformation, creating a new operational unit (DFW Crossdock Logistics) dedicated specifically to DLI's traditional cross-dock mail consolidation services.
In early 2011, DLI extended logistics operations to both coasts by opening new cross dock facilities in New Jersey and California. DLI also continued to push the envelope of service and technology by joining forces with a leading mail national mail commingling company to integrate logistics solutions with nationwide commingling services through the new DirectCommingle platform.
The Current Organization:
Today, Direct Logistics is a formidable technology driven logistics company. Its commitment to core technology developed around Truck Direct Mail is expanding rapidly to a new enterprise level transportation, warehouse, and management solution known as the Insight software solutions. Its logistics service base has expanded to serve both coasts. And its revenues and volumes continue to show impressive, consistent growth.